Ķidājam www.saeima.lv
12.02.2009. 16:25:37 sagatavoja Deniss Fedotovs (deni2s)
2008.gada augustā kāda sabiedrisko attiecību aģentūra mani palūdza uzrakstīt īsu "eksperta viedokli" par mājas lapu www.saeima.lv, kurš būtu saprotams "parastajiem" cilvēkiem.
Vienojāmies, ka to drīkstēšu publicēt 2009.gadā. Tā kā www.saeima.lv nekas būtisks kopš tā laika mainījies nav, tad domāju, ka šis viedoklis ir aktuāls arī tagad.
Mājas lapas www.saeima.lv apskats
Kā jau visas mājas lapas, arī www.saeima.lv būtu jābūt veidotai, lai tā būtu ērta lietošanā un pieejama pēc iespējas plašākam cilvēku lokam.
Diemžēl pašlaik www.saeima.lv izskatās, ka tā ir veidota nevis lai to izmantotu cilvēki, bet gan, lai tiktu atzīmēts kāds ķeksītis kādā atskaitē.
Vienīgās pieņemtās normatīvās prasības valsts mērogā kārtībai, kādā iestādes ievieto informāciju internetā, lai nodrošinātu tās pieejamību ir MK noteikumi Nr. 171 "Kārtība, kādā iestādes ievieto informāciju internetā"1. Taču šie noteikumi attiecas tikai tiešās pārvaldes iestādēm un atvasinātām publiskām personām, izņemot pašvaldību iestādes. Tātad uz Saeimu šie noteikumi nav saistoši. Jāatzīst, ka neņemot vērā grozījumus, kuri ir spēkā ar 2008. gada 9. augustu, www.saeima.lv tomēr formāli ir ievērojusi gandrīz visus iepriekš minētajos noteikumos iestrādātos punktus. Taču, lai mājas lapa būtu ērta lietošanā un pieejama pēc iespējas plašākam cilvēku lokam, ar to vien nepietiek.
Mājas lapas raksturo šādas īpašības:
lietošanas ērtums jeb lietojamība (usability);
pieejamība (accessibility);
saturs;
lapas vizuālais noformējums.
Pētījumi liecina, ka mājas lapas apmeklētājiem par mājas lapu rodas pirmais priekšstats jau pirmajās sekundes desmitdaļās. Paskatoties uz mājas lapas www.saeima.lv sākumlapu, nekāds labais priekšstats neveidojas. Lapa nesniedz vizuālo baudījumu un nerada priekšstatu, ka tā pārstāv nopietnu valstisku institūciju. Paskatoties uz lapas vizuālo noformējumu, diemžēl nerodas nekāds priekšstats par to, kādas ir Saeimas vērtības. Neizprotama paliek arī mazās bildītes sākumlapā nozīme.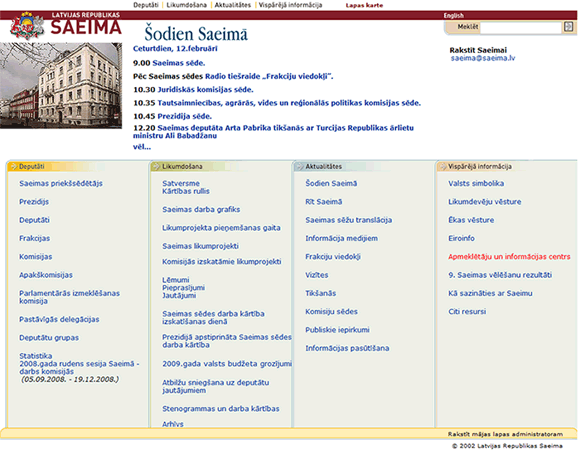 Pirmā lieta, kas duras acīs – nekur nav redzama saite uz informāciju, kas ir Saeima, kurai intuitīvi vajadzētu būt ar nosaukumu "Par Saeimu". Apmeklētājiem būtu jādod iespēja noskaidrot, kas tā ir par iestādi un ar ko tā nodarbojas, kuras mājas lapu tie apmeklē, jo mājas lapai būtu jābūt kā iestādes vizītkartei internetā.
Aplūkojot rūpīgāk sākumlapu, ir redzams, cik neloģiski tiek attēlota informācija. Tā tiek sagrupēta četrās daļās – Deputāti, Likumdošana, Aktualitātes un Vispārējā informācija. Neloģiski šķiet tas, ka šo grupu virsraksti ir mazākiem burtiem, kā pati informācija zem šiem virsrakstiem.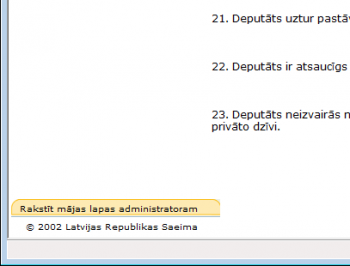 Paskatoties citas mājas lapas www.saeima.lv lapas, ir redzams, ka nav ievērots viens no lietojamības pamatprincipiem – konsekvence2. Piemēram, saite "Rakstīt mājas lapas administratoram" atrodas te labajā, te kreisajā pusē, arī navigācijas elementi dažādās lapās izskatās savādāk, ir lapas, kurās navigācijas elementi vispār nav atrodami (piemēram, www.saeima.lv/saeima9/lasa?dd=LP0796_0).
Lapu vizuālais noformējums ir nevis ieturēts vienotā stilā, bet tā praktiski nav. Līdz ar to, lietotājs pārejot uz citu lapu, var pat nepamanīt, vai viņš vēl aizvien atrodas www.saeima.lv mājas lapā, vai arī atrodas kādā citā lapā.
Saites ir mājas lapu viens no pamatelementiem, tāpēc tām vajadzētu pievērst īpašu uzmanību. Pie lapas mīnusiem var pieskaitīt arī to, ka lapā ir ļoti daudz saišu uz ārējiem resursiem, taču šīs saites izskatās tieši tāpat, kā saites uz iekšējiem resursiem.
Turpinot par saitēm lapā, lietojamības eksperti iesaka, lai tās tiktu izceltas ar krāsu un arī ar pasvītrojumu3, lai palielinātu iespējas, ka lietotājs uz tām noklikšķinās. www.saeima.lv mājas lapā tas nav ievērots.
Saitēm HTML kodā nav pievienoti arī title atribūti4, kuri ne tikai palīdz lietotājiem izprast, kurp vedīs saite, bet arī palīdz meklētājsistēmām (Google, Yahoo!, MSN, Live.com u.c.) precīzāk indeksēt mājas lapu, lai tās varētu lietotājiem piedāvāt visatbilstošākos rezultātus. Tieši tas pats attiecas uz alt atribūtiem5 HTML kodā pie bildēm mājas lapā.
www.saeima.lv lapā ir slikta prakse atvērt dažas saites jaunā interneta pārlūka logā. Lietotājam grūti aptvert informāciju jau esošajā logā, kur nu vēl divos logos. Lai gan, tas var arī neatvērties, jo lietotājiem pārlūkos bieži vien ir uzstādīti dažādi reklāmu bloķētāji, kuri vienkārši nobloķē jauna loga atvēršanu. Līdz ar to lietotājs iegūst negatīvu pieredzi par mājas lapu, jo viņam šķiet, ka saite nedarbojas.
Cita problēma ar saitēm www.saeima.lv mājas lapā ir tā, ka tās bieži vien norāda uz informāciju, kas nav internetā pieņemtajos formātos. Piemēram, MS Word formātā vai Adobe Acrobat formātā. Turklāt pie saitēm nav nekādas norādes, ka informācijas apskatei nepieciešamas papildus programmas. Lietojamības eksperti iesaka izmantot informāciju citos formātos pēc iespējas mazāk6.
Runājot par lapu saturu, arī te varētu vairāk piedomāt, kā to noformēt lasāmāku, jo pētījumi pierāda, ka internetā lietotāji tekstu biežāk nevis lasa, bet skenē7.
Palielinot burtu izmēru, teksts būtu salasāms daudz plašākai auditorijai. Ideāli būtu, ja burtu izmēru varētu mainīt (kā to paredz arī MK not. Nr. 171 "Kārtība, kādā iestādes ievieto informāciju internetā"1 19.1 punkts).
Būtu nepieciešams pārskatīt iespēju sadalīt garus tekstus pa vairākām lapām, jo pētījumi8 pierāda, ka "vidējā" interneta lapā lietotāji pavada tikai tik daudz, lai izlasītu maksimums 28% no teksta, visbiežāk gan tie izlasa tikai 20% no visa teksta. Tikai lapās, kurās ir 111 vārdi vai mazāk, lietotāji parasti izlasa vismaz pusi no teksta. Daži pētījumi9 norāda, ka labus rezultātus var panākt jaucot garākus tekstus ar īsākiem.
Garākos tekstos noteikti būtu jāievieto vairāk ilustratīvo materiāli – grafikus, bildes, jo tas ne tikai palīdz labāk un vieglāk uztvert informāciju, bet arī vienkārši ļauj lietotājiem atpūtināt acis. Tieši tā paša iemesla dēļ prasās tekstos arī lielākas atstarpes starp rindkopām, kā arī varbūt pārdomāt rūpīgāk burtu garnitūras izvēli. Pavisam noteikti tekstu vieglāk uztvert arī palīdzētu gaumīgi lapas grafiskie noformējuma elementi. Iespējams, ka lietotājiem būtu vieglāk arī uztvert lapu, ja tiktu vairāk izmantotas dažādas vispārpieņemtas piktogrammas, kuras uztvert ir ātrāk un vienkāršāk par tekstu.
Ņemot vērā, ka lietotāji biežāk skenē tekstu, nevis lasa vārdu pa vārdam7, tekstu vajadzētu ievietot viegli skenējamā formātā, tas ir, tam būtu jābūt sagrupētam, izmantojot virsrakstus un apakšvirsrakstus, sarakstus, jācenšas izmantot "piramīdas princips" (sākt ar secinājumiem vai kopsavilkumu un turpināt ar sīkāku iztirzājumu), kā arī būtiskākos atslēgvārdus tekstā vajadzētu izcelt.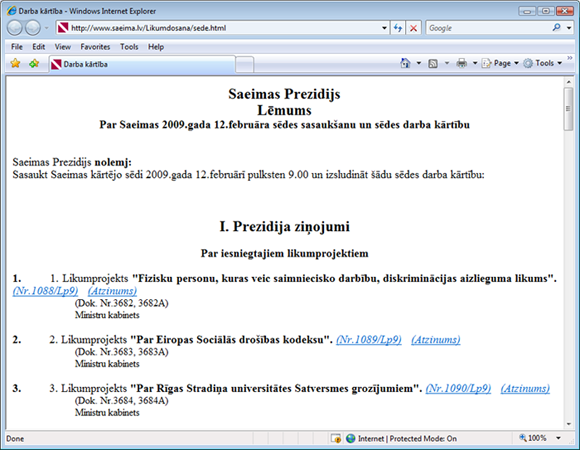 www.saeima.lv/Likumdosana/sede.html
Interneta adreses (URL) mājas lapā www.saeima.lv ir lietotājiem nedraudzīgas, tās ir grūti izprast, jo tās neatbilst lapas struktūras arhitektūrai, tās ir grūti nolasīt, lai citi cilvēki varētu tās saprast. Piemēram, www.saeima.lv/pages/aktualitates.jsp?page=info-medijiem. Daudz draudzīgāk lietotājiem (un arī meklētājsistēmām10) būtu, ja lapas interneta adrese (URL) būtu šāda:
www.saeima.lv/aktualitates/info-medijiem.
Mājas lapai www.saeima.lv iztrūkst arī interaktīvie elementi, par kuriem ir pieminēts arī MK not. Nr. 171 "Kārtība, kādā iestādes ievieto informāciju internetā"1 15.7 punktā (piemēram, "Jūsu jautājums", "Viesu grāmata", "Komentāri", "Forums", "Diskusija", "Aptauja"), kuri palīdzētu ne tikai iegūt atgriezenisko saiti no mājas lapas apmeklētājiem par Saeimas darbību, bet arī rosinātu diskusijas mājas lapas apmeklētāju starpā.
Žurnālistu, un citu cilvēku ērtībām, kuri vēlas sekot aktualitātēm mājas lapā, neapmeklējot to, būtu nepieciešama arī atsevišķu mājas lapas satura vienību piegāde, izmantojot vienkāršās sindicēšanas pakalpojuma (Really Simple Syndication jeb RSS) kanālus. Pašlaik šī iespēja www.saeima.lv mājaslapā nav pieejama.
www.saeima.lv ir arī dažādas tehniskas nepilnības, kuras traucē gan lapas lietojamībai, gan pieejamībai. Bez jau iepriekš minētajiem alt un title atribūtiem, lapa nav veidota pēc The World Wide Web Consortium (W3C) ieteikumiem. Dažās lapās nav nodefinēts Doctype11 (piemēram, www.saeima.lv/pages/aktualitates.jsp). Lapa tiek kodēta Windows-1257 kodējumā, nevis mūsdienās jau internetā vispārpieņemtajā UTF-8 kodējumā, kas ļauj bez problēmām attēlot vienā lapā dažādu valodu simbolus. Lapas izklājuma veidošanai nekorekti12 tiek izmantotas tabulas. Sākumlapā pilnīgi lieki tiek izmantoti tā saucamie freimi (frames), kuri samazina lapas pieejamību, lietojamību, kā arī rada problēmas korekti indeksēt lapu meklētājsistēmām13.
Ņemot vērā, ka mūsdienās mājas lapās parasti vismaz trešdaļa (dažās arī gandrīz 100%) no apmeklētājiem nonāk caur meklētājsistēmām (visvairāk tieši no Google14), tad nevajadzētu noniecināt meklētājsistēmu nozīmi, veidojot mājaslapas – vajadzētu rūpīgi pārdomāt saturā izmantotos atslēgvārdus, lapas struktūru, URL interneta adreses, lietotājiem un meklētājsistēmām draudzīgu lapas kodu.
Secinājumi: Mājas lapas www.saeima.lv vizuālais noformējums nespēj atbilstoši reprezentēt Saeimu, tā neatbilst mūsdienās pieņemtajiem mājaslapas veidošanas, lietojamības un pieejamības standartiem, līdz ar to liekot šķēršļus tās apmeklētājiem pilnvērtīgi iepazīties ar tajā publicēto informāciju, kā arī sniegt atgriezenisko saiti par Saeimas darbību izmantojot internetu.
Atsauces
1 MK noteikumi Nr. 171 "Kārtība, kādā iestādes ievieto informāciju internetā" ("LV", 41 (3617). 09.03.2007.spēkā ar 10.03.2007 ar grozījumiem:
MK noteikumi Nr. 648 ("LV", 122 (3906), 08.08.2008.) spēkā ar 09.08.2008.
www.likumi.lv/doc.php?id=154198
2 "Consistency is one of the most powerful usability principles: when things always behave the same, users don't have to worry about what will happen. Instead, they know what will happen based on earlier experience. Every time you release an apple over Sir Isaac Newton, it will drop on his head. That's good." – Jakob Nielsen.
www.useit.com/alertbox/9605.html
3 "To maximize the perceived affordance of clickability, color and underline the link text. Users shouldn't have to guess or scrub the page to find out where they can click." – Jakob Nielsen
www.useit.com/alertbox/20040510.html
4 www.w3.org/TR/REC-html40/struct/global.html#h-7.4.3
5 www.w3.org/QA/Tips/altAttribute
6 "When using PC-native file formats such as PDF or spreadsheets, users feel like they're interacting with a PC application. Because users are no longer browsing a website, they shouldn't be given a browser UI." – Jakob Nielsen
www.useit.com/alertbox/open_new_windows.html
www.useit.com/alertbox/20030714.html
7 "People rarely read Web pages word by word; instead, they scan the page, picking out individual words and sentences. In research on how people read websites we found that 79 percent of our test users always scanned any new page they came across; only 16 percent read word-by-word." – Jakob Nielsen
www.useit.com/alertbox/9710a.html
8 "On the average Web page, users have time to read at most 28% of the words during an average visit; 20% is more likely. (...) On an average visit, users read half the information only on those pages with 111 words or less." – Jacob Nielsen
www.useit.com/alertbox/percent-text-read.html
9 www.useit.com/alertbox/content-strategy.html
10 www.google.com/support/webmasters/bin/answer.py?hl=en&answer=76329
11 www.w3schools.com/tags/tag_DOCTYPE.asp
12 "HTML is a structural language, which means it is - or should be - used to add structure into a text through tags. The table tag should then only be used to format data into a table to relate columns with rows."
www.w3.org/2002/03/csslayout-howto
"The Web Standards Project's (WaSP) Browser Upgrade Initiative (BUI), has spurred many a designer to move towards more standards compliant web design, using CSS rather than tables for layout to save user bandwidth while enhancing underlying semantics, accessibility, and reach."
www.alistapart.com/articles/practicalcss/
13 "Google supports frames and iframes to the extent that it can. Frames can cause problems for search engines because they don't correspond to the conceptual model of the web. In this model, one page displays only one URL. Pages that use frames or iframes display several URLs (one for each frame) within a single page. Google tries to associate framed content with the page containing the frames, but we don't guarantee that we will.
If you're concerned with how your site appears in the Google search results, please read Search Engines and Frames This document describes the use of the "NoFrames" tag to provide alternate content. If you use wording such as "This site requires the use of frames," or "Upgrade your browser," instead of providing alternate content on your site, then you'll exclude both search engines and individuals who've disabled frames on their browsers. For example, audio web browsers, such as those used in automobiles and by the visually impaired, typically do not support frames."
www.google.com/support/webmasters/bin/answer.py?answer=34445
14 "Uz šo brīdi Googles daļa pasaulē interneta meklēšanas jomā sastāda 70,77%, seko Yahoo! ar 18.65%, Microsoft ar 5.36% un ask.com ar 3.53%."
www.notepad.lv/slideinfo.php?t=2160