Virtuālais tiešsaistes ofiss, groupware, jeb collaboration software
25.09.2007. 16:01:49 sagatavoja Deniss Fedotovs (deni2s)
Portāls HC.LV, kuru esmu uzsācis veidot pāris gadus atpakaļ ir ļoti stipri attīstījies, tāpēc radās nepieciešamība pēc tādas lietas, kā virtuālais tiešsaistes ofiss, lai uzlabotu darba efektivitāti.
Lieta tāda, ka HC.LV portāla veidotāji, kopā jau apmēram 10 cilvēki, reāli dzīvo un darbojas dažādos Latvijas nostūros (ir pat bijis gadījums, kad vienu no portāla veidotājiem dzīvē satiku tikai pēc pusotra gada kopīgas darbības). tāpēc savstarpējā saziņa pārsvarā notiek tiešsaistē.
HC.LV komanda nodarbojas ne tikai ar portāla veidošanu, bet arī ar dažādu pasākumu organizēšanu un citiem projektiem paralēli, kur katrs ir atbildīgs par savu jomu. Nesen pēc
HC.LV pasākuma Andrejsalā, uz kuru atnāca pāri par tūkstoti apmeklētāju
, sākām savā starpā atkal sarakstīties ar e-pasta palīdzību par to, ko vajadzētu uzlabot nākamajā pasākumā. Tā kā pasākuma aktīvie organizētāji bija vismaz trīs, tad šī mūsu diskusija pa e-pastu ātri vien pārvērtās nekontrolējamā haosā. Turklāt gribējās, lai arī pārējie HC.LV komandas dalībnieki būtu lietas kursā par to, kas notiek HC.LV "ķēķī".
HC.LV portāla publiskais čats tika uzreiz atmests – informācija netiek nekur saglabāta, arī publiski iekšējās lietas pārrunāt nebūtu smuki. Radās doma par atsevišķu forumu tikai HC.LV komandai. Kādreiz tāds tika aktīvi lietots, taču te es atcerējos laacz.lv blogā
postu par tiešsaistes ofisiem
.
Tiešsaistes, jeb virtuālais ofiss ir darba vide internetā, kur var pieslēgties vairāki darbinieki un ērti apmainīties ar informāciju savā starpā. Dažādus risinājumus var atrast meklējot pēc atslēgvārdiem "virtual office" un "groupware". Izskatās, ka arī "collaboration software" nozīmē to pašu.
Medības pēc labākā risinājuma sākās. Jāpiezīmē, ka tika izvirzītas šādas prasības:
Ērta, intuitīva lietošana
Iespēja aplūkot kontaktus
Iespēja mainīties/dalīties ar failiem
Iespēja mainīties ar informāciju (čats/forums/ziņojumu dēlis/cits risinājums)
Iespēja dot sev un citiem izpildāmus uzdevumus (tasks)
Risinājumam jābūt bezmaksas
Pēdējās prasības dēļ tika atmests
Zoho
(bezmaksas risinājums pašiem jāinstalē uz IIS, kas mūsu rīcībā nav).
Google Apps
arī neatbilda prasībām. Tika iemēģināts
OfficeZilla
, diemžēl tas izskatījās pārāk gļukains, lai to varētu reāli lietot, sākot jau ar to, ka netika atbalstīts UTF-8 kodējums.
Nākamais atradums bija
eGroupWare
, kurš gan ir jāinstalē uz servera. Diemžēl šis produkts neizturēja instalācijas pārbaudi, kā rezultātā izmeta čupu ar kļūdām, ka uzinstalēt to neizdosies. Tika meklēts nākamais upuris.

phpGroupWare
tika atrasts nākamais. Smuka instalācija, iespaidīgas iespējas no pirmā skata… Taču pārāk iespaidīgas iespējas – tik iespaidīgas, ka pat man, kam ir ~15 gadu stāžs IT jomā, nācās meklēt atbalsta forumā informāciju par to, kā pievienot publisku ziņu. Tik sarežģīti, ka lietotājs parastais (lietotājs
vulgaris
) nemūžam tādu pasākumu nelietos.
Ir gan dažas labas iespējas – projektu vadība, kā arī resursu izmantošana (cerēju, ka varēšu norādīt reklāmas baneru vietas kā resursus un ērti visi varēs pārskatīt, kurā laika posmā ir brīvas vietas reklāmām. Diemžēl jaunajā phpGroupWare versijā tāda lieta, kā sazināšanās starp lietotājiem ar čata vai foruma palīdzību nav iespējama. Tika meklēts nākamais kandidāts.
more.groupware
– vienkāršs lietošanā, vienkāršas iespējas. Diemžēl iebūvētā e-pasta sistēma nedarbojas korekti ar UTF-8 kodējumu. Arī administrācija ir pārāk sarežģīta.
Pēdējais tika iemēģināts
Collanos Workplace
. Atšķirībā no visiem iepriekšminētajiem risinājumiem, šī aplikācija neatrodas uz servera, bet gan tā ir jāinstalē katram lietotājam uz sava datora, jo šī aplikācija izmanto p2p iespējas datu sinhronizēšanai. Tā arī nav web aplikācija.
Instalēšana vienkārša, nekā sarežģīta tur nav. Programma tiek uzinstalēta, notiek reģistrēšanās Collanos tīklā un to var sākt izmantot. Tiek izveidota darbavieta – vieta, kur var izveidot mapes un pievienot dažādus objektus. Objekti var būt jebkurš fails, saite, uzdevums (
task
), piezīme vai diskusija. Kad daudz maz darbavieta ir sakārtota, var uzaicināt citus lietotājus uz šo darbavietu – uzaicinātie lietotāji var ērti ieviest savas izmaiņas objektos un pievienot jaunus. Pie tam veiktajām izmaiņām ir viegli izsekot, jo mainītie objekti tiek atsevišķi iezīmēti. Pie tam "darbavietas" var būt vairākas – katra var tikt dalīta ar citiem cilvēkiem.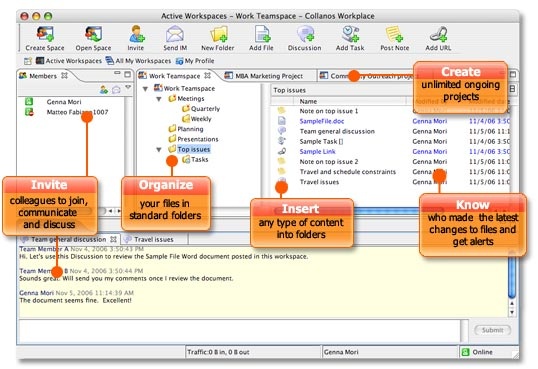 Pie mīnusiem varētu atzīmēt to, ka nevar ar vienu lietotājvārdu darboties no vairākiem datoriem, uzdevumu progresam un prioritātei ir grūti izsekot (lai gan veidotāji dienas laikā atbildēja uz šo jautājumu un aprakstīja, kā to var darīt ļoti viegli, kā arī nav ieviests kalendārs, kas būtu integrēts ar uzdeviem (
tasks
). Izstrādātāji gan to sola ieviest nākamajās versijās. Vēl viena nepatīkama lieta ir tāda, ka citi lietotāji var viens otru izmest ārā no "darbavietas" – te nu ir jāņem vērā, ka šī vieta nav paredzēta cīņu laukam, taču arī šī problēma ir risināma (jāatcerās, ka pēc noklusējuma visiem "darbavietas" lietotājiem ir administratora tiesības)
Lai nu kā būtu ar tām nepilnībām, bet kā informācijas apmaiņas programma Collanos Workplace ir viena no labākajām pašreiz pieejamajām bezmaksas iespējām kopīgam darbam attālināti. Arī izstrādātāji ir atsaucīgi – atbalsta forumā atbild salīdzinoši ātri un neskopojas ar detalizētiem paskaidrojumiem. Tiek solīta nākamā izstrādes versija jau 2007.gada septembra nogalē.
Cerams, ka šī aplikācija palīdzēs mums strādāt efektīvāk, un varbūt kādam arī šis raksts būs noderīgs darba efektivitātes uzlabošanai savā organizācijā!